Circuit de Saint-Jean d'Alcas
Walking/pedestrian at Saint-Jean-et-Saint-Paul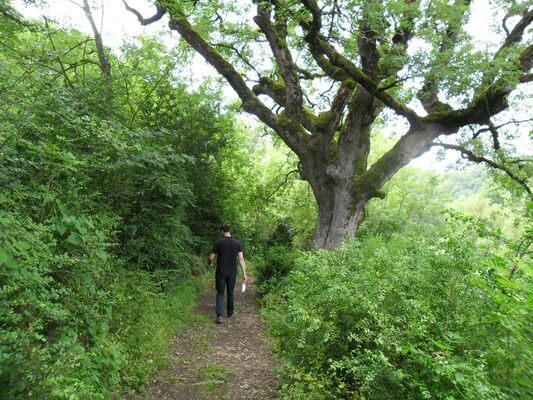 Points of interest
1
Fort de Saint-Jean d'Alcas
Au XII°s., le hameau d'Olcas (devenu Alcas) dépend de l'abbaye cistercienne de Nonenque. En 1356, les premières préoccupations défensives apparaissent avec le début de la guerre de Cent ans : l'église est fortifiée pour servir de refuge à la population. Devenue insuffisante, les abbesses commanditent la construction d'un fort (1439 – 1445) incluant dans son périmètre, l'église fortifiée. Le fort est constitué d'une enceinte de 62,5 mètres sur 37, avec des tours circulaires dans chaque angle. La régularité de l'ensemble et le parfait état de conservation offrent une grande harmonie.
Le Moulin de Gauty est un ancien moulin à eau situé au bord du ruisseau le Verzolet. Aujourd'hui privé, les propriétaires ont aménagé les dépendances en 4 chambres d'hôtes spacieuses et confortables.
C'est dans ce moulin qu'Hippolyte Puech décéda en 1914. Natif de St-Jean d'Alcas, instituteur à Tournemire pendant 32 ans, il herborise surtout le Larzac et la devèze de Lapanouse. Il sollicite son ami, Hippolyte Coste, et Ernest Malinvaud pour son admission à la Société Botanique de France. Hippolyte Coste lui dédie un chardon hybride Carduus Puechii.
Cheminements à l'intérieur de haies denses de buis arborescents centenaires, elles étaient destinées à protéger et à canaliser les troupeaux.
Sources : PNRGC_Didier Aussibal
411 meters of difference in height

Start altitude :

603 m

End altitude :

603 m

Maximum altitude :

652 m

Minimum altitude :

433 m

Total positive elevation :

411 m

Total negative elevation :

-412 m

Max positive elevation :

181 m

Min positive elevation :

-112 m
Leave a review about Circuit De Saint-Jean D'alcas :
Horrible

Bad

Average

Good

Excellent
There is no review about Circuit De Saint-Jean D'alcas, be the first to leave one !