Circuit panoramique des Gorges de la Jonte et les Gorges du Tarn
Road
at Millau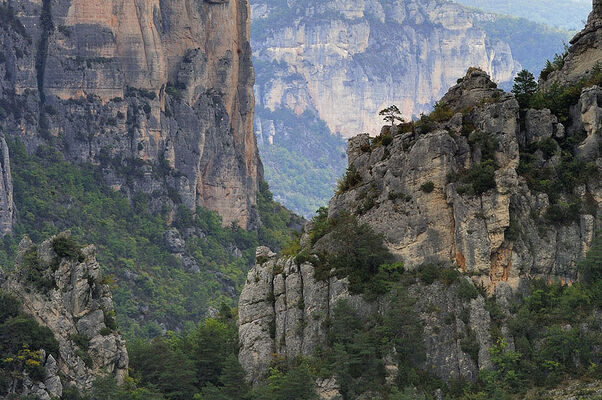 Difference in height

2812.95 m

Documentation

GPX / KML files allow you to export the trail of your hike to your GPS (or other navigation tool)
Points of interest
2
Le village de Rivière-sur-Tarn
3
Les caves à vin d'Entre-deux-Monts
6
Panorama sur les Vases de Sèvres et de Chine
Deux kilomètres après Le Rozier, la Maison des Vautours explique la disparition, la réintroduction et le mode de vie des vautours fauves. Vous pourrez observer en direct, su grand écran grâce à 3 caméras, les nids, les perchoirs et le repas des vautours, le tout commenté par des animateurs ornithologues.
Par la D139, on atteint la Grotte de Dargilan (visite payante, 1h30 environ), explorée par E.A. Martel et surnommée la grotte rose en raison de sa coloration naturelle. A l'entrée de la grotte, le Belvédère du Gayran (superbe panorama sur les gorges de la Jonte, table d'interprétation et sentier botanique, accès gratuit) complète parfaitement cette visite.
Exploré en 1897 par E.A. Martel et Louis Armand, cet aven - gouffre en occitan - fut ouvert au public en 1927 par le creusement d'un tunnel plus tard équipé d'un funiculaire. Une vaste salle aux dimensions impressionnantes renferme une extraordinaire forêt de plus de 400 stalagmites ouvragées, dont certaines dépassent les 10 mètre de hauteur. (Entrée payante, visite guidée, 1h environ).
11
La Ferme Caussenarde d'Autrefois
A Hyelzas, la Ferme-écomusée à Hyelzas, (entrée payante, visite 1h30, vidéo) aménagée dans des bâtiments à l'architecture typique (17e - 19e s.) présente la vie quotidienne de jadis. Bergeries et granges, citernes, aire et greniers, habitation, outils, machines agricoles, meubles et objets. Découvrez la vie des paysans du Causse Méjean il y a plus de 100 ans.
12
Les Chevaux de Przewalski
13
Le village de Sainte-Enimie
14
Panorama de Saint-Chély du Tarn
15
Le village de La Malène
16
Panorama du Roc des Hourtous
19
Belvédère du Pas de Soucy
20
Le village de Peyreleau
21
Le village de La Cresse
23
La Maison de la Cerise
2813 meters of difference in height

Start altitude :

378 m

End altitude :

375 m

Maximum altitude :

994 m

Minimum altitude :

357 m

Total positive elevation :

2813 m

Total negative elevation :

-2816 m

Max positive elevation :

386 m

Min positive elevation :

-185 m
Leave a review about Circuit Panoramique Des Gorges De La Jonte Et Les Gorges Du Tarn :
Horrible

Bad

Average

Good

Excellent
There is no review about Circuit Panoramique Des Gorges De La Jonte Et Les Gorges Du Tarn, be the first to leave one !