Circuito adaptado a ninos para descubir la ciudad
Walking/pedestrian
at Millau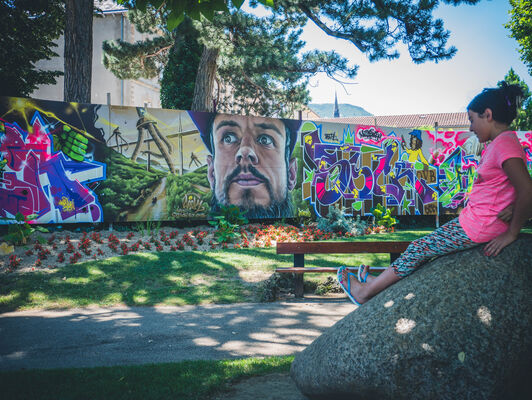 Points of interest
1
El campanario o Atalaya
Les dieron el nombre de campanario a las torres que encerraban las campanas de la ciudad .
En las ciudades de la Edad Media, el campanario es el símbolo de los fueros municipales conseguidas del señor feudal. Su torre abriga la campana de toque, símbolo del poder, destinado a llamar al pueblo para las deliberaciones comunales, las penas capitales o para señalar la llegada de un enemigo. Las cartas comunales, que confirman por escrito la extensión de las libertades y el compromiso del señor feudal para respetarlas están conservadas dentro, en lugar protegido.

La torre cuadrada (10.50m de lado y unos veinte metros de alto) fue construida en el siglo XII por el rey de Aragón que hizo de ésta una residencia y el símbolo de su poder. Millau le pertenecía. Tiene 3 pisos abovedados con lavabos, armarios, letrinas( aseos) y vanos. Están conectados por escaleras que giran).

Los consules de la ciudad, que lo habían comprado, decidieron elevar una torre octogonal (20 metros de altura) por encima de la torre cuadrada y el edificio se convirtió entonces realmente en campanario de la ciudad en el siglo XVII y en lo alto de la torre un campanario y su campana llamada : « Esperanza ».

4
Teatro "Casa del Pueblo"
Teatro "maison du peuple"
La plaza Foch tiene una fuente bonita con gárgolas y esculturas. Alrededor hay edificios como el museo, bares, restaurantes, escuela, iglesia. Es una plaza muy antigua. Antes fue una plaza de armas. Cada miércoles y viernes por la mañana, hay un mercado muy famoso. La gente puede comprar muchas cosas : frutas, queso, pan, verduras, embutidos y también medialunas para comer con el café. A mí me gusta mucho esta plaza. Es muy agradable dar un paseo por esta plaza cuando está soleada.
- " Veo, Veo ..."
- ¿ Qué ves?
- Una foto.
¿ Y Dónde está la foto?

¿ Dónde se encuentran los detalles de la bóveda?
7
El mercado cubierto o la lonja
8
El mercado cubierto o la lonja 2
27 meters of difference in height

Start altitude :

375 m

End altitude :

375 m

Maximum altitude :

376 m

Minimum altitude :

356 m

Total positive elevation :

27 m

Total negative elevation :

-27 m

Max positive elevation :

10 m

Min positive elevation :

-9 m
Leave a review about Circuito Adaptado A Ninos Para Descubir La Ciudad :
Horrible

Bad

Average

Good

Excellent
There is no review about Circuito Adaptado A Ninos Para Descubir La Ciudad, be the first to leave one !