Hameaux du Larzac en Moto
Motorcycle
at Millau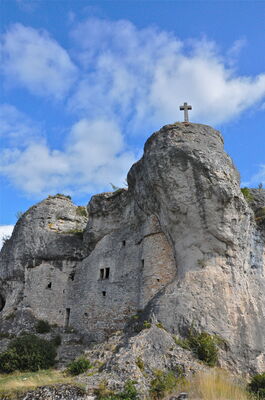 Points of interest
Les cascades de Creissels proviennent d'une exsurgence. Ces eaux descendent du Larzac pour traverser le village et enfin rejoindre le Tarn.
Sur le causse du Larzac ou l'eau est très rare, les hommes ont donc dû trouver des astuces pour la conserver dans le but d'abreuver les troupeaux qui pâturent sur le plateau. La plupart du temps ce sont des creux naturels réaménagés où le fond est étanchéifié grâce à de l'argile pour retenir l'eau plus longtemps et pavé de pierres calcaires pour capter et retenir les eaux de ruissellement..
3
La Jasse Maison du Larzac
La Jasse, Maison du Larzac, est une ancienne bergerie construite au XIXe siècle dans la plus pure tradition caussenarde, avec une voûte en pierres et une toiture en lauzes calcaires. Aujourd'hui, on y trouve des produits typiques et artisanaux du Larzac.
4
La buissière de Potensac
La buissière de Potensac est une œuvre des hommes et de la nature. C'est un couloir végétal naturel formé de buis, pour la plupart multicentenaires. Au départ, ce n'est qu'un passage entre deux murs en pierre sèches où se sont mis à pousser des buis. Au fil du temps, les buis grimpent et se rejoignent en leurs cimes pour ne former qu'un seul et même ensemble : la buissière.
Venez déguster des produits locaux tous les étés lors des marchés de pays organisés les vendredi soir d'août et de juillet.
6
Hameau de Saint Martin du Larzac
Saint-Martin est un petit hameau : on y voit une ferme traditionnelle avec sa jasse, c'est-à-dire sa bergerie voûtée, le four attenant au toit couvert de lauzes ; une petite église, un cimetière et l'ancienne école aujourd'hui transformée en habitation.
7
Les Baumes - Habitat troglodytique
Le hameau des Baumes à Millau, dans l'Aveyron, s'accroche au flanc d'un chaos dolomitique du causse du Larzac, en bordure d'une éminence calcaire formée de rochers ruiniformes.

Le principe des fermes auberges repose sur un menu unique (avec quelques variantes dans le choix des légumes et fruits pour les gratins et desserts selon les saisons…), élaboré en grande partie à base des produits de la ferme.

Ouverte toute l'année sur réservation hormis la fermeture annuelle en janvier et février ainsi que les mercredis en juillet et août seulement.
9
Miellerie des Causses et de la Vallée
Le miel des Causses est récolté une seule fois, en juillet et en août, au moment où la flore est complète : thym, serpolet, sainfoin, amélanchier, ronce, aspi, etc... Conduite apicole à la méthode ancienne. Ouvert du 15 juillet au 15 septembre
741 meters of difference in height

Start altitude :

375 m

End altitude :

376 m

Maximum altitude :

817 m

Minimum altitude :

355 m

Total positive elevation :

741 m

Total negative elevation :

-741 m

Max positive elevation :

241 m

Min positive elevation :

-195 m
Leave a review about Hameaux Du Larzac En Moto :
Horrible

Bad

Average

Good

Excellent
There is no review about Hameaux Du Larzac En Moto, be the first to leave one !