Journée découverte des gorges du Tarn et de la Jonte
Motorcycle , Road
at Millau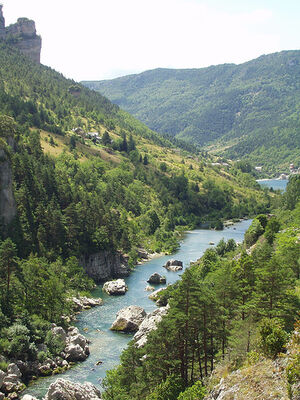 Points of interest
Observez et apprenez à connaitre ces grands rapaces grâce à un parcours muséographique permettant de mieux comprendre leurs modes de vie. Pour parfaire votre connaissance une terrasse avec vue sur les Gorges de la Jonte et les falaises, est équipée de longues vues.
2
La Ferme Caussenarde d'autrefois
Visite possible Hors circuit (1h)

Découvrez à votre rythme, la vie quotidienne des paysans du Causse Méjean jusqu'aux années 1950. Le mobilier, le linge, la vaisselle, les outils et machines agricoles ont gardé leur place dans cette ferme du XVIIIe et XIXe siècles à l'architecture typique.
3
Grotte de l'Aven Armand
117 ans après sa découverte, l'Aven Armand demeure une incroyable expérience des profondeurs. Et même si les échelles de cordes des pionniers ont laissé place à un funiculaire pour pénétrer à 50 mètres sous le sol du causse Méjean, l'émotion, au bout du tunnel, est intacte. 400 stalagmites et stalagmites forment cette forêt de dentelles de pierres construites goutte-à-goutte durant des millions d'années.
4
Village de Sainte-Enimie
Situé au cœur des gorges du Tarn, le village médiéval a su conserver son charme avec ses anciennes demeures de calcaire, ses rues pavées de galets provenant du Tarn et l'ancien monastère bénédictin dont subsistent une chapelle et une salle capitulaire.
Le nom du village proviendrait d'une princesse mérovingienne Enimie qui aurait été guérie de la lèpre grâce à la source de la Burle.

Village classé parmi les plus beaux de France.
Possibilité de visite guidée, Canoë Kayak et Baignade.
5
Les bateliers des gorges du Tarn
Les bateliers des gorges du Tarn vous guident au cœur des Gorges du Tarn : sur 8 km du village de La Malène au Cirque des Caumes, à la découverte de cette partie du canyon. Grâce à leur connaissance du milieu ils permettent aux visiteurs d'accéder aux nombreuses richesses de la faune, de la flore, et de l'histoire locale.
Alors embarquez et laissez vous porter sur les eaux cristallines du Tarn et savourez la beauté de ce site exceptionnel.
En fonction de la période et afin de pouvoir profiter au mieux de la descente en barque, il est vivement conseillé de contacter les bateliers qui vous indiqueront les meilleurs créneaux horaires.
6
Belvédère du Pas de Soucy
Le Tarn disparaît sur une centaine de mètres sous d'énormes blocs effondrés de la falaise, formant un chaos impressionnant. Un belvédère aménagé en surplomb vous permet de découvrir ce site.
1866 meters of difference in height

Start altitude :

375 m

End altitude :

376 m

Maximum altitude :

1023 m

Minimum altitude :

357 m

Total positive elevation :

1866 m

Total negative elevation :

-1865 m

Max positive elevation :

117 m

Min positive elevation :

-95 m
Leave a review about Journée Découverte Des Gorges Du Tarn Et De La Jonte :
Horrible

Bad

Average

Good

Excellent
There is no review about Journée Découverte Des Gorges Du Tarn Et De La Jonte, be the first to leave one !