Randonnée : De Betpaumes à Carbassas - 12,2 km
Walking/pedestrian at Paulhe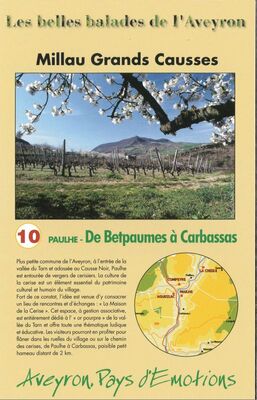 Des vergers de la vallée à la forêt du Causse Noir.
A ne pas manquer : la Maison de la Cerise à Paulhe, sentier d'interprétation dans les vergers de cerisiers, anciennes ruelles, église, maisons caussenardes et de vigne, vues sur la vallée du Tarn et les falaises du Causse Noir, village agricole de Carbassas

SITUATION : de Millau, prendre la RD 992, direction Clermont-Ferrand jusqu'au passage à niveau à l'entrée d'Aguessac. Juste après la voie ferrée, prendre à droite pour rejoindre Paulhe.
PARKING : à l'entrée du village de Paulhe, près de l'abribus.
BALISAGE : jaune ; signalétique du sentier de la Cerise sur le chemin en variante.
Extrait du topoguide en vente à l'Office de Tourisme (8 € les 15 fiches, 1 € la fiche-parcours).
NE PAS PUBLIER : A VÉRIFIER SUR PLACE!

Difference in height

518.57 m

Documentation

GPX / KML files allow you to export the trail of your hike to your GPS (or other navigation tool)
Points of interest
De la place de l'église, avancer jusqu'à la rue des Églantiers et la remonter. Continuer en face par le sentier herbeux qui débouche sur la route de Carbassas. La traverser et prendre en face la voie cimentée et obliquer sur le sentier escarpé bordé de haies vives. Poursuivre par la piste empierrée qui monte.
Prendre le chemin à gauche qui vous mène sur le Causse Noir à travers les buis, chênes et pins sylvestres jusqu'à la corniche. Continuer tout droit sur la sente balisée. Elle vous mène derrière la ferme du Dévézou. Continuer jusqu'à atteindre un croisement 100 m avant la ferme de Betpaumes. Variante : prendre la piste à droite et continuer toujours à droite aux différentes intersections pour traverser les vergers de cerisiers. Après la dernière plantation, virer à droite sur le chemin herbeux au milieu des cultures et passer devant une petite maison de vigne. Descendre jusqu'à la petite route reliant Carbassas à Paulhe en suivant le balisage du Sentier de la Cerise.
Passer devant la ferme et continuer la piste sur la droite à travers les pins noirs et pins sylvestres. Rester sur la piste principale (route forestière).
Au croisement, prendre la piste de droite. Puis au croisement suivant, prendre à gauche (portion du parcours de santé) une piste avec une barrière puis presque immédiatement à droite.
Au carrefour, après la barrière, prendre la route forestière sur votre gauche. Au croisement suivant, prendre sur la droite. Suivre cette piste jusqu'à une intersection : prendre à droite. Vous êtes sur la corniche. Au sol, une borne cimentée (marquée 53).
Prendre le sentier qui descend sur votre gauche, bordé de buis. Descendre jusqu'au village de Carbassas. Vous arrivez sur le Chemin des Plos, traverser le village et prendre la petite route qui rejoint Paulhe, avec, en n°7, intersection avec le Sentier de la Cerise.
Continuer sur la route puis passer devant le cimetière et retrouver le petit sentier herbeux. Continuer à gauche et retrouver la rue des Églantiers.
519 meters of difference in height

Start altitude :

387 m

End altitude :

387 m

Maximum altitude :

842 m

Minimum altitude :

387 m

Total positive elevation :

519 m

Total negative elevation :

-518 m

Max positive elevation :

213 m

Min positive elevation :

-290 m
Leave a review about Randonnée : De Betpaumes À Carbassas - 12,2 Km :
Horrible

Bad

Average

Good

Excellent
There is no review about Randonnée : De Betpaumes À Carbassas - 12,2 Km, be the first to leave one !